SAVE MORE, WORRY LESS…
invest in tax accounting services With Guaranteed Return and 100% Risk-FREE PLAN
"They were very responsive and have demonstrated high integrity"
– Susie Cole
"The Tax Guys is one of these companies you will love to work with"
-Lukasz Zelezny
"The outcome totally exceeded my expectations"
-Nikki Spaul
Enjoy our free plan that includes a cloud bookkeeping platform forever. No credit card required, cancel anytime.
Get a free year-end accounts and personal tax return with business advisory when you sign-up to one of our paid packages!
No long-term contracts, no lock-ins and no exit fees.
Money-back guarantee if you are not happy with our services.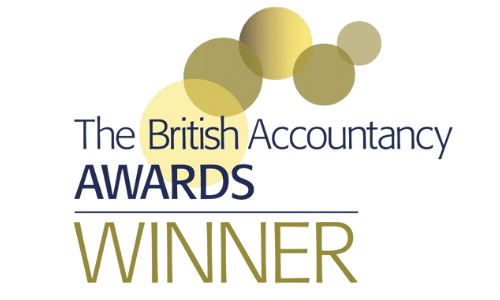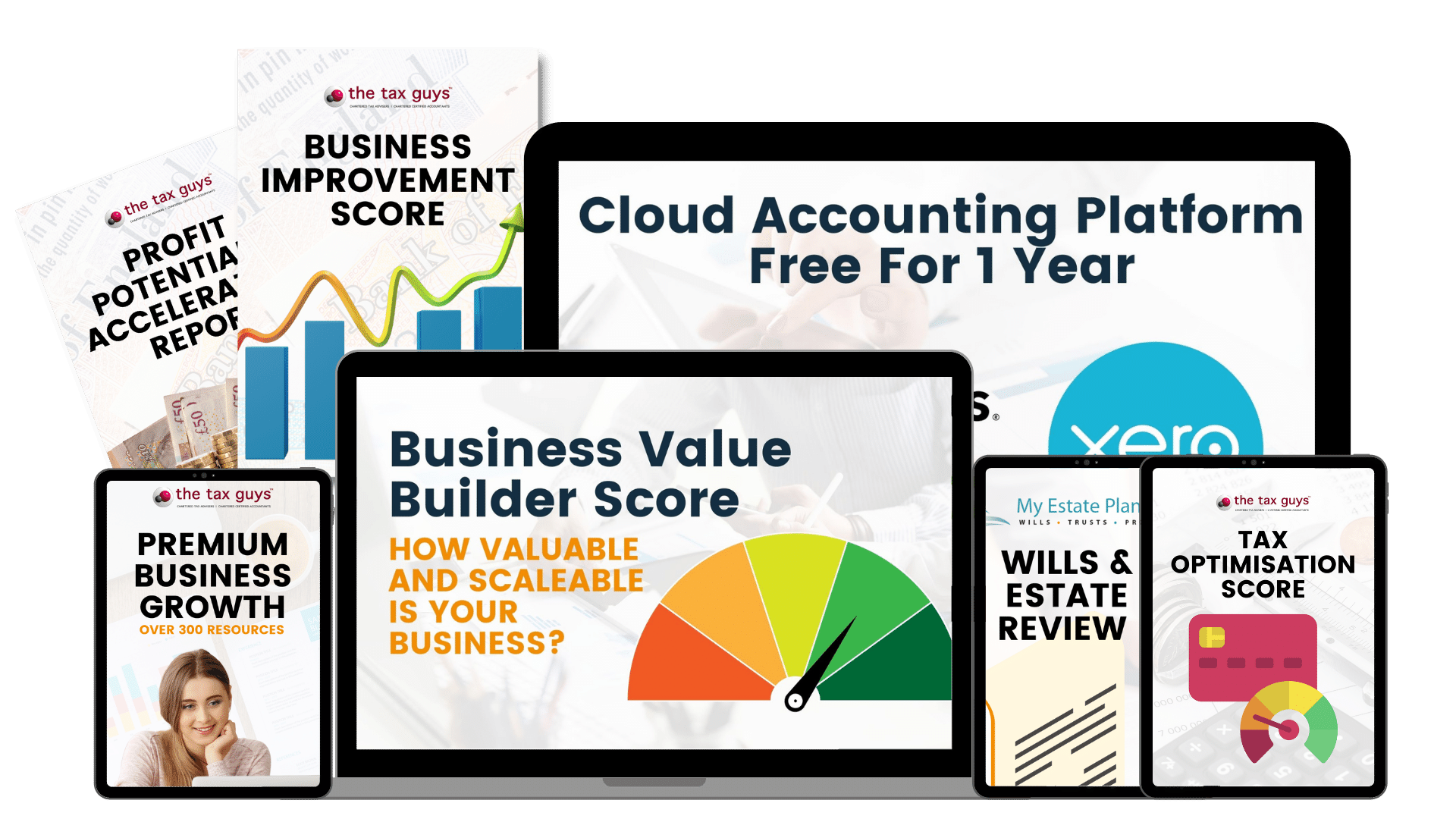 This is perfect for those who wants to try our services, and still on the fence on signing up with us. 
No credit card required. 
Free Cloud Accounting Platform (Quickbooks, Xero or FreeAgent)
Tax Optimisation Score (Find out if you're overpaying your tax bill)
Business Value Builder Score (How valuable and scalable is your business?)
Profit Potential and Acceleration Report (Are you leaving money on the table?)
Business Improvement Score
30 Days Access To Premium Business Growth Platform (Over 300 resources)
Wills and Estate Review (What Will Happen To Your Kids and Business After You're Gone?)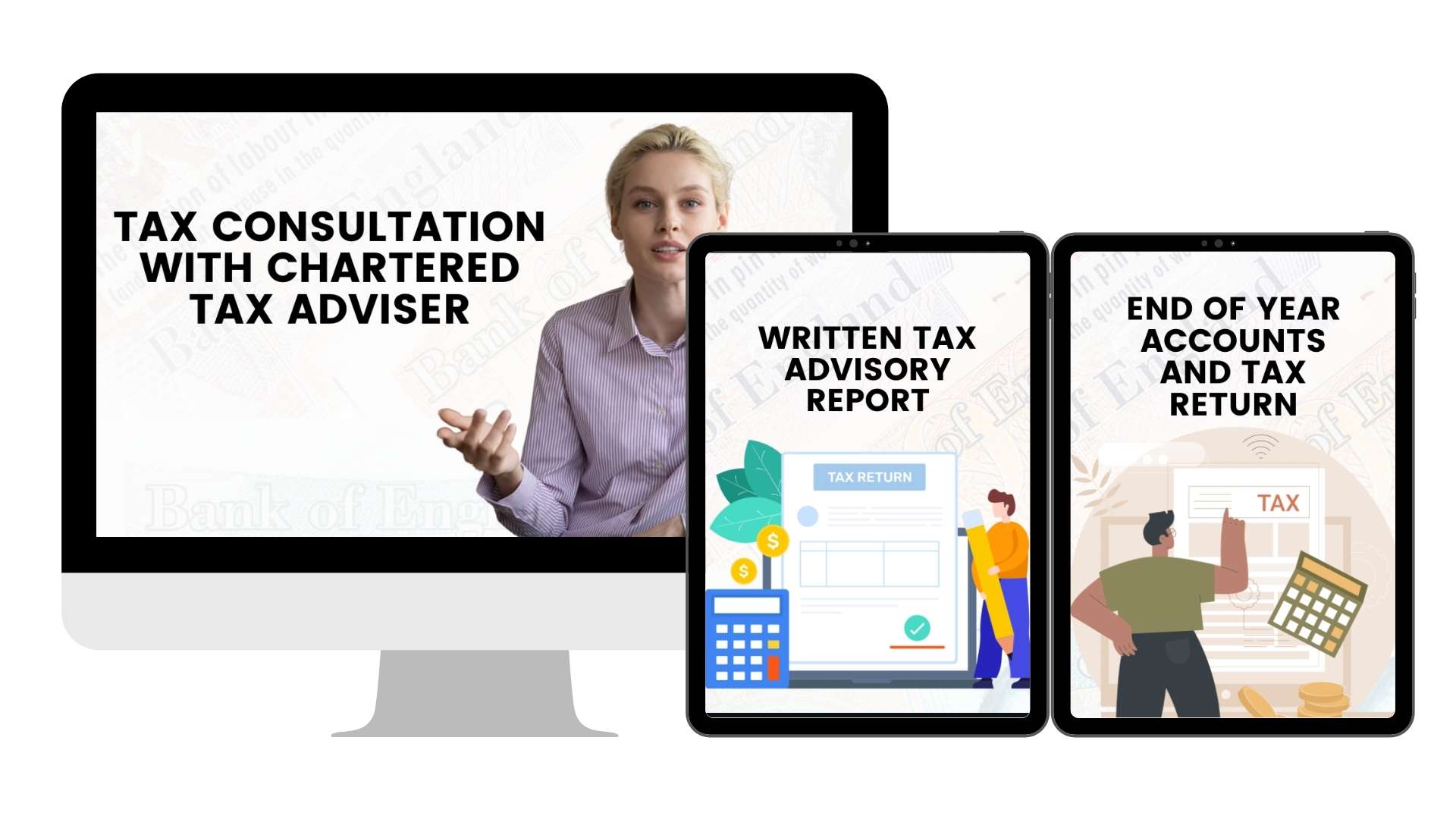 TAX CONSULTATION WITH CHARTERED TAX ADVISER (£350+VAT)
WRITTEN TAX ADVISORY REPORT (£1495+VAT)
END OF YEAR ACCOUNTS AND TAX RETURN (£1500+VAT)
MONTHLY SERVICES PACKAGES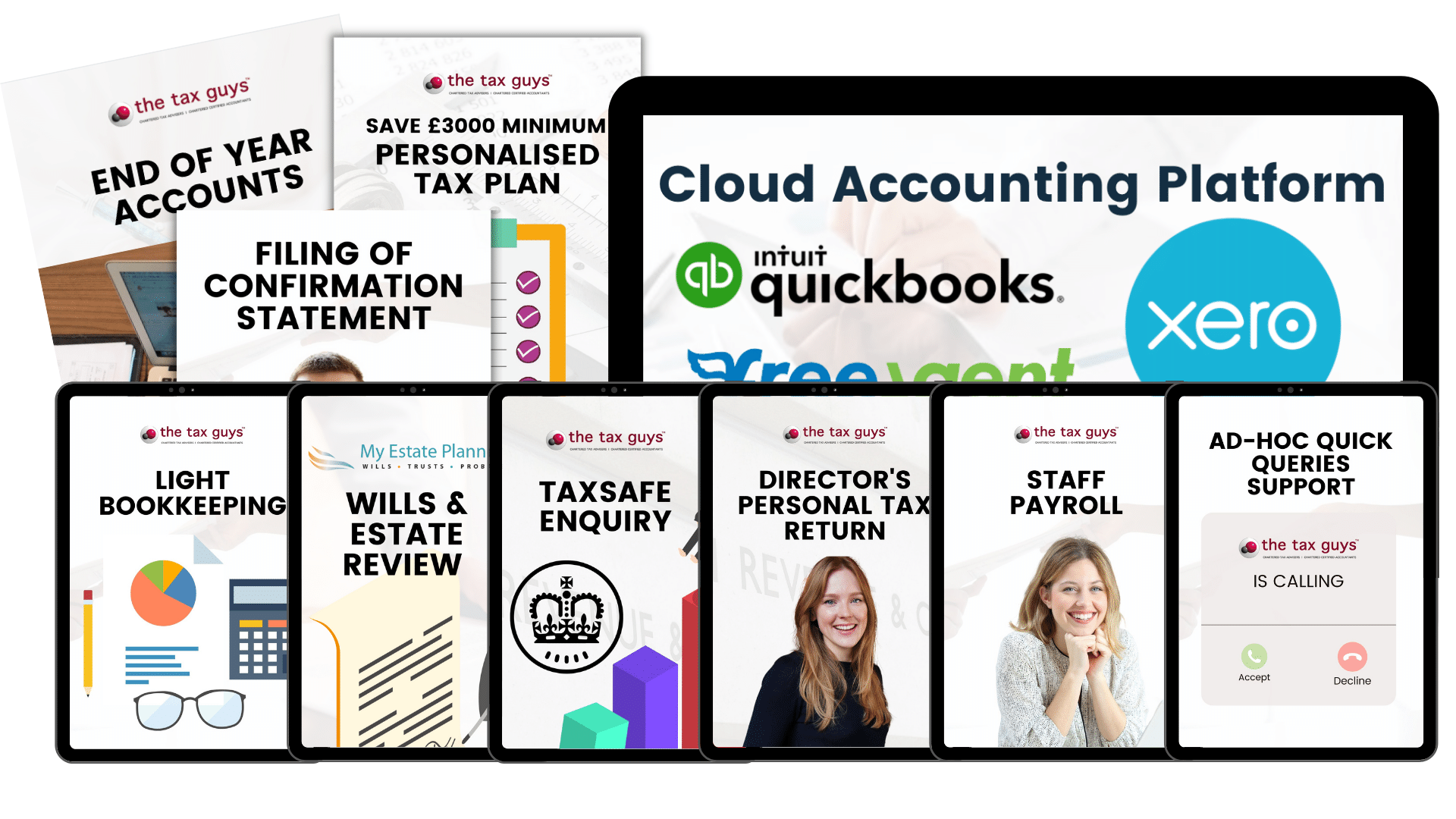 Your own Tax Plan showing you areas to save at least £3000 in tax
Tax projection to avoid being blindsided by a huge tax bill
Looking ahead review: Wills, Inheritance and Pension
Taxsafe enquiry cover to protect you against unfair HMRC treatment (valued at £1000)
Director's personal tax returns to avoid extra costs
End of year accounts and tax return (valued at £1500)
Payroll for 2 staff
Xero/QuickBooks/FreeAgent Account (valued at £288)
Filing of Annual Confirmation Statement
Light Bookkeeping (up to 50 transactions a year)
Ad-hoc quick queries by phone & email (valued at £95 per hour)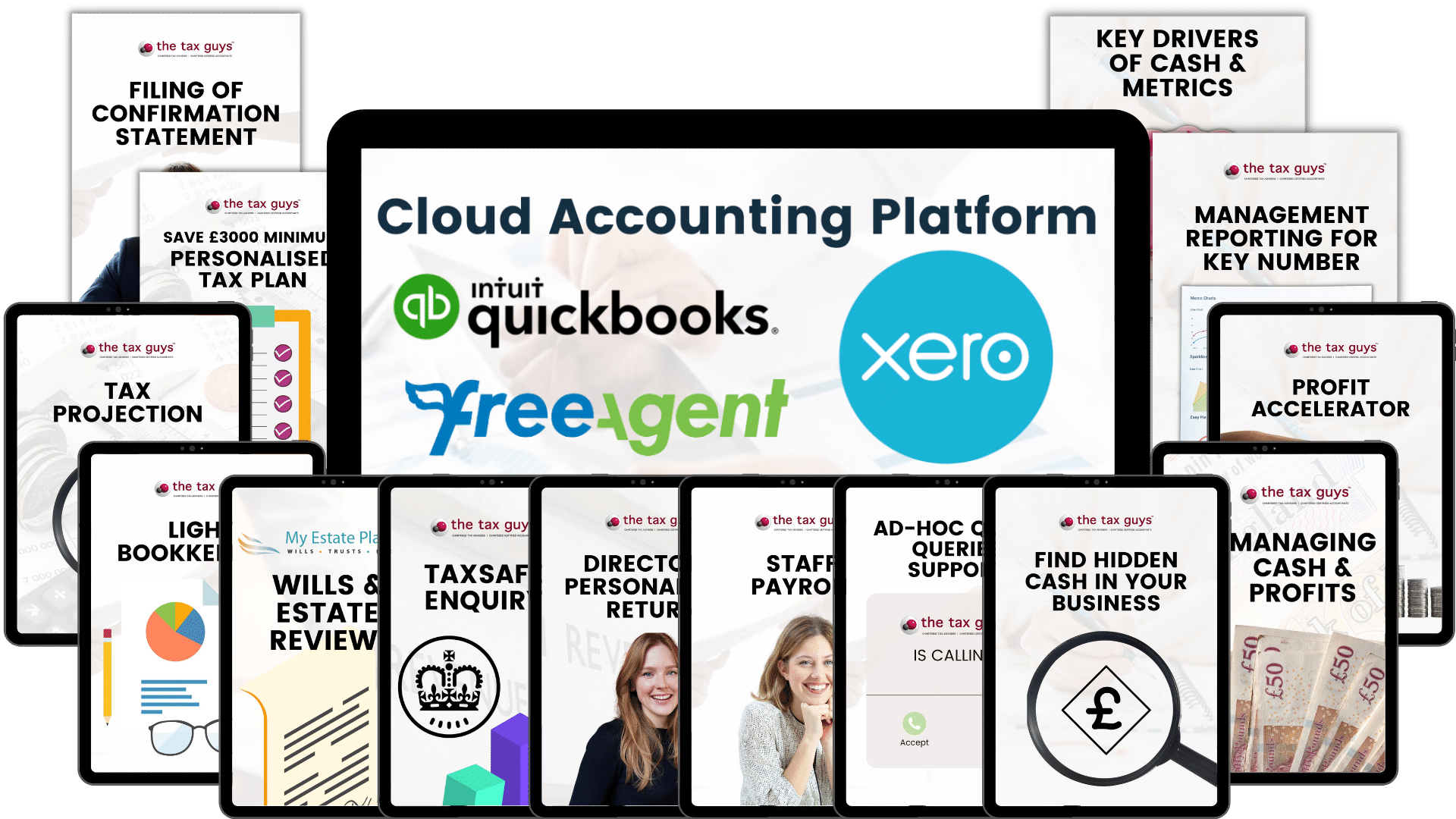 Everything from Optimise My Tax plus,
Managing your monthly cash and profits
Monthly management reporting on your key numbers
Cashflow monitoring and forecast
Improving cash and profits using our profit accelerator and cashflow finder tools
Key Drivers Of Cash and Metrics
Finding Hidden Cash In Your Business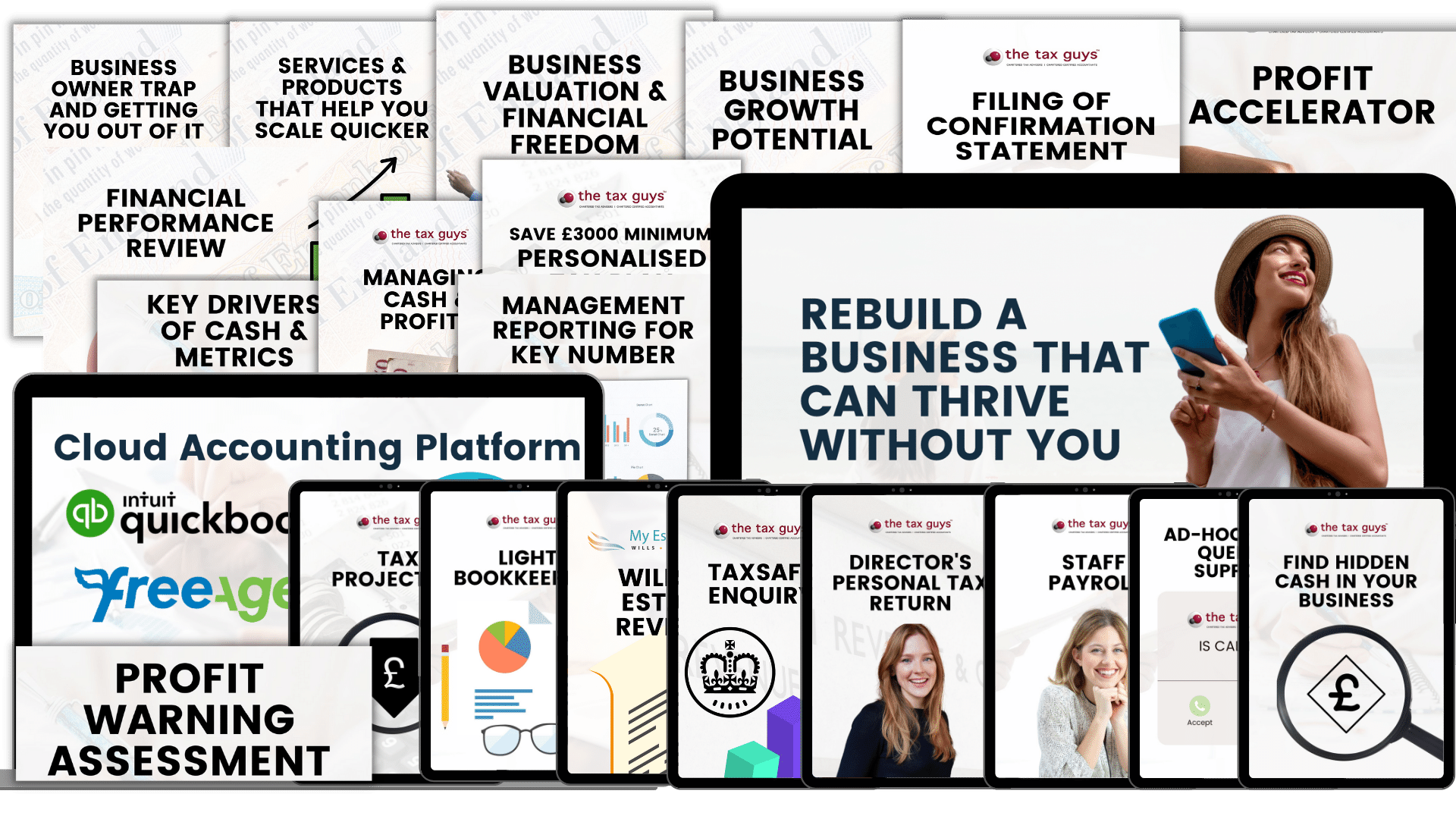 Everything from Manage My Finances plus,
Profit Warning Assessments
Business Owners Trap and Getting You Out Of it
Services and Products To Help You Scale Quicker
Your Business Growth Potential
Financial Performance and Recurring Revenue
Business valuation and financial freedom figures
Working through key drivers of business value to rebuild a business that can thrive without you
Transform Your Business and Save More With These Award Winning Add-Ons. Ask us when you call. 
Bookkeeping without Tears
Payroll without Pain
My Finance Team
FREQUENTLY ASKED QUESTIONS
Is there any hidden fees on the free plan?
No, there's no hidden fees! You will get all the service listed in the plan for free, no charge. We don't even need a direct debit setup or credit card on file.
Can I upgrade my services anytime?
Of course! Just send us an email if you want to get an upgrade, and let us know what additional services you would need. 
Do you handle all the compliance work?
Yes, we do! You never need to worry about your books! We'll handle that for you and make sure your business and HMRC have a good relationship!
Can I sign-up as a client without going through the 30-day free trial?
Yes! We would send you a proposal and we can start working on your business. 
Can you make a bespoke plan for me?
Yes, we know some business models and you might have a various income streams and our plans might not fit you, but don't worry! We can create custom pricing for you. 
What if I'm not happy with the services?
Email us or call us ahead! We would look into your account and call you right away so we can sort it out and see the things you're not happy about and investigate on what happened. 
We're always happy to keep improving our services!
BOOK A 15-MIN CLARITY CALL